It is me again, Andrew the veterinarian. I was thinking it would be worth giving you a little bit more information as regards your dog's potential atopy issues because during summer most of the skin problems become visible.
Did you know that atopy is the second most common allergy in dogs, after flea allergies? It is estimated that 10-15% of dogs are affected with atopic dermatitis which causes an irritating itch, skin reddening as well as secondary clinical signs including ear infections, skin infections and potential self-trauma by the dogs trying to scratch that itch.
ABOUT THE ATOPY
Based on historical and clinical features, food adverse reactions and atopy can be indistinguishable, especially if they present with non-seasonal clinical signs. Typical features for both conditions include: young age when it starts, scratching of the ears, armpit, groin and the ends of the legs. It is also estimated that in 30% of allergic cases, both food intolerance and atopy occur together.
It is an inherited predisposition to develop allergic clinical signs following repeated exposure to an allergen. It can be seasonal (may sometimes manifest under the arms and belly if it is a classic contact dermatitis especially with dogs with a low undercarriage!) due to pollens/grasses or due to a specific protein found in their food. It causes reddening and inflammation of the skin due to the excessive secretion of glands in the skin, may include a bacterial infection and classically causes a 'musty' smell to your dog's coat.
If it occurs non-seasonally (ie: all year round) then a food trial should be tried first before considering allergy testing. If it is seasonal (ie: spring/summer) then strict flea control and allergy testing (intradermal skin testing and/or blood serology) is usually recommended.
CONNECTION WITH THE GUT
Did you know that the most common hypersensitivities affecting dogs are flea bites, food adverse reactions (food allergy & food intolerance), and atopy with all three having very similar clinical signs of itchiness, skin reddening, hair loss and skin thickening.
It can be quite tricky to find the allergen(s) causing this itchy skin as the clinical signs are very similar to other conditions such as parasites, food intolerance, flea allergies and generalised bacterial skin infections. If an environmental (inhaled, contact) is suspected, your veterinarian can carry out intradermal injections into the skin and/or a serological (blood) test to help try and identify the allergen.
As ever, a poor diet can also be a cause especially if high in carbohydrates and highly processed (like the vast majority of kibble foods). Switching to a high protein, low-processed, low carbohydrate organic food such as our range of food can often help with this. Please see your veterinarian to see if your dog needs an elimination diet to try and determine the offending protein allergen.
If a food intolerance has been diagnosed and the protein allergen identified, it is then a good idea to put your dog on a hypoallergenic diet that is organic and contains nothing artificial. The main protein culprits are usually beef, chicken, wheat, milk and eggs.
OUR SOLUTION
When it comes to food allergy we would recommend our range of organic, low carbohydrate, zero starch and zero artificials foods. We have also noted incredible results with our insect recipe as this is an incredibly novel protein and is therefore unlikely to cause any issues.
At ROCKETO we've created a RANGE OF ORGANIC, LOW-PROCESSED FOODS which can help with both sensitive tummies and food intolerances. We have also developed the world's first dehydrated-raw INSECT RECIPE using whole insects which is an incredibly novel and sustainable protein. The insect is particularly useful as this is an incredibly good novel protein!

Another well-testes and popular product is our Variety Box (contains beef, chicken, fish and insect) which are all organic, dehydrated under 40 degrees celsius to preserve the nutrients naturally and absolutely no synthetics are used. If you know which animal protein your dog is intolerant to then you can also select from any one of our flavours.
For supplement of current diet we have an  amazing Herbal Glow Blend which can help with skin and coat conditions. Our HALO supplement contains four superfoods/herbs which full of natural anti-oxidants and supports the elimination of toxins from the body, including free radicals. These are vital for skin, structural and immune health, as they protect cells against oxidation, which is one of the causes of disease and ageing of the skin. HALO supports skin and ear health via addressing the root cause of the issue, not by suppressing the symptoms.
AFTER ATOPY TESTIMONIALS
If a food intolerance has been identified, I would very much welcome you to look at some of our pet owner testimonials as they have seen some amazing results!
★★★★

Iain, verified buyer, Insect Recipe
"My 5 year old Border Terrier has had issues with an inflamed bowel since he was a puppy, thought to be linked to food intolerance. On the advice of the vet I was feeding him hypoallergenic hydrolysed protein kibble, but he didn't really go mad for it and would regularly leave meals untouched. I saw an advert for Rocketo dried raw insect food and was intrigued. After four weeks, his appetite for his meals has improved no end, he smells better and his stools are firm and well formed. I would even say he seems more intelligent! Haha. I would have given a 'perfect' rating for this product, except for the fact that it is still too early to tell and the bowel issues have been cyclical in the past. Having said that, I am so hopeful, I have placed an order for a further 6kg!"
★★★★★

Biddi, verified buyer, Chicken Recipe
"I raw fed Pickle in her early years but was advised to stop by my vet after she developed severe inflammation of her digestive tract. Two nearly fatal flare ups. She's has two severe allergies, white fish and maize. I have been feeding top quality grain free meat and kibble but felt she was always a bit lack lustre. Dehydrated raw food seemed a good alternative but many varieties contain fish or fish oil and with her allergy she cannot have them. Then I found Rocketo. The first chicken dinner I prepared had her jumping up at the counter while it soaked and was gobbled down and the bowl licked clean of every scrap. The beef variety was the same. She is full of beans, her coat seems to be getting thicker, she has thinning as a result of long term steroids and she is bright and eager to play. Her poo tended to be very hard on her previous diet which caused gland issues but her poo now is softer but dry. A perfect pick up. We are both very impressed with Rocketo so far and look forward to seeing long term results"
★★★★★
Vivien, verified buyer, Perch recipe
"An alternative protein source which also suits my allergy prone dog and is now part of her regular rotational feeding regime. All 3.of my dogs love this food and it is super easy to use and prepare. Will be great for trips away from home."
★★★★★

Christine, verified buyer, Beef Recipe
"Our dog was having a terrible skin allergy and we could not pinpoint exactly from what. I was about to do a homemade BARF diet but found this and decided to give it a try. Our dog LOVES the food and it's so easy to prepare. The itching has definitely been reduced since we changed from commercially made dry food to Rocketo. I'm about to try the dental snacks next!"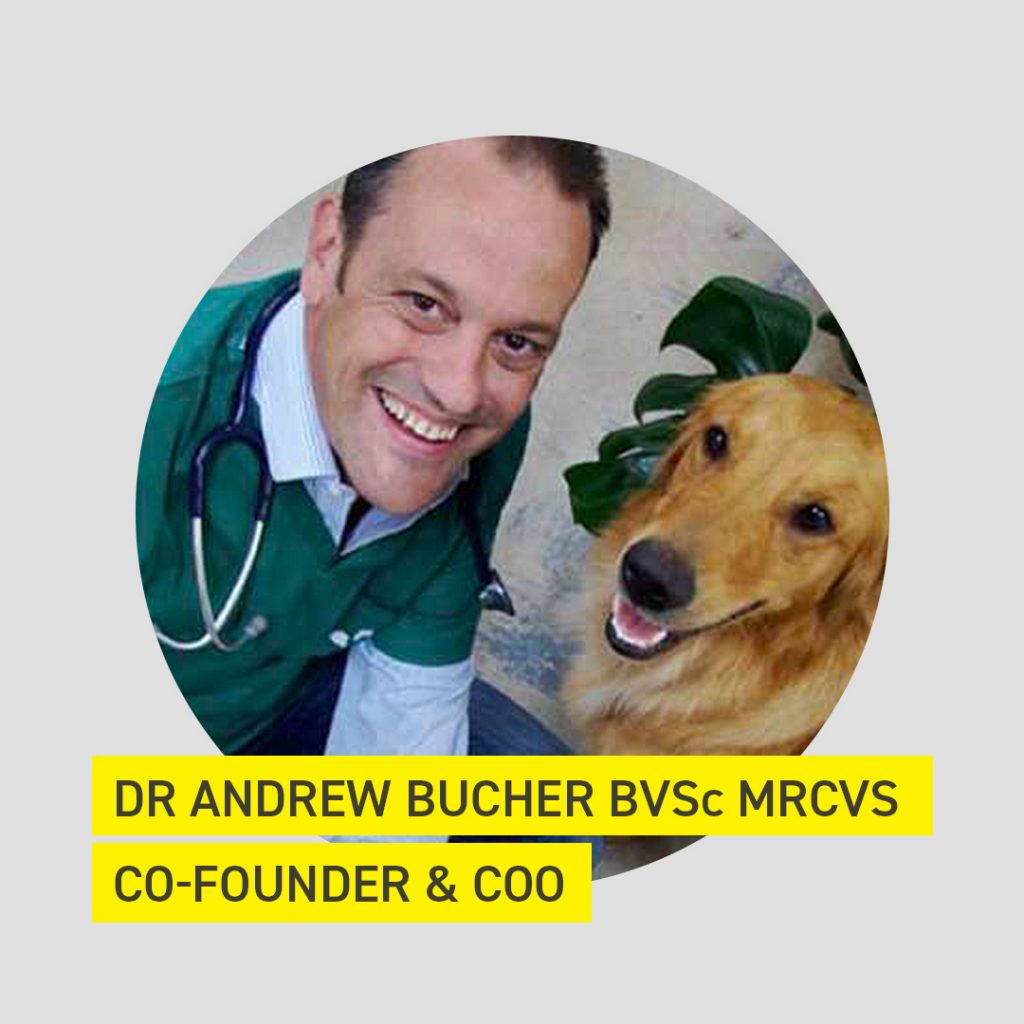 Written by
DR. ANDREW BUTCHER
BVSc MRCVS