WHAT'S WRONG WITH KIBBLE DRY FOOD?
---
Dear Pet Parents,
When I was considering making the switch to raw dog food, I felt as if I were going around in circles.
That's why I want to bring you a clarity by answering the most popular questions you gave to us.
1.KIBBLE FOOD CONSISTS TOO MUCH CARBOHYDRATES
Now popular dry dog food consist somewhere BETWEEN 40% TO 60% OF CARBOHYDRATES WHILE in the primordial diet is 4% to 6% or even less.
Such a huge amount of carbohydrates is directly correlated with epidemic situation in our dogs health:
A. Average dog lifespan almost shrank double since 1970's.
B. Diabetes in dogs has risen over 900% since 2011.
C. Cancer is the leading cause of death in 47% of dogs.
It should be obvious where this discussion is going; 4% versus 40%.
Here I want to mention one of the longest dog cancer study made by Thomas Sandberg.
"Of all the dogs with cancer that I dealt with, 99% have been fed commercial dog food, mostly dry kibble of some sort. I rarely see dogs on a raw food diet get cancer."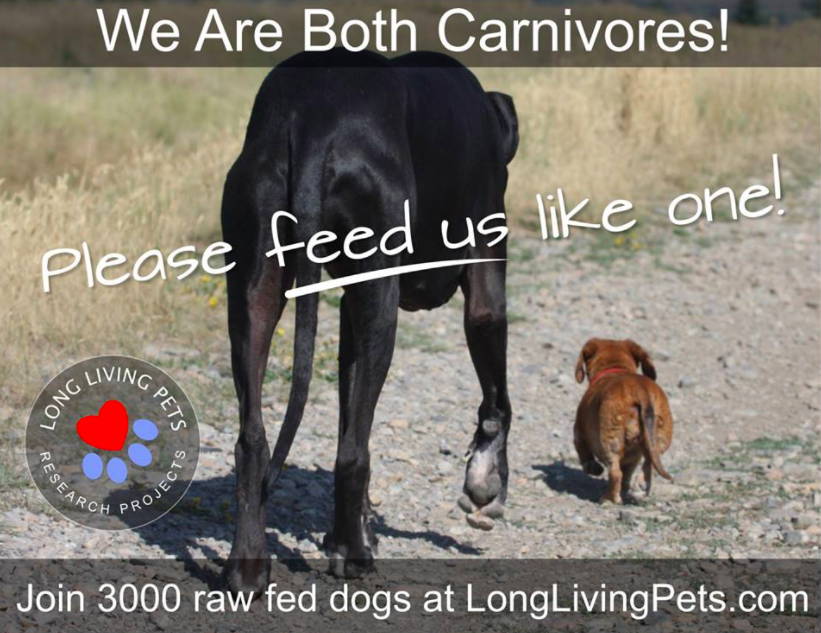 The following amazing facts is based on his first 16 years with 80 dogs he fed the diet that was designed for LOW amounts of carbs and HIGHER amounts of fat and protein.
Giant breed dogs can live into their mid-teens
Large breed dogs can live into their late teens - early 20s
Mid-size breed dogs can live into their early 20s to mid-20s
Small breed dogs can live into their mid-20s to late 20s 
If you want to learn more about CARBOHYDRATES CLICK HERE: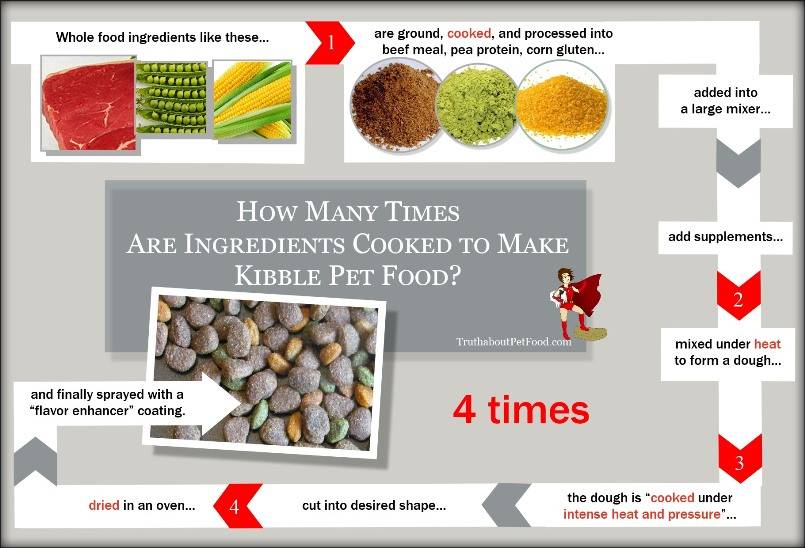 The other argument to avoid kibble is cooking process...
Kibble food ingredients are ground, heated, cooked under intense heat and pressure and dried in an oven!
Because of the cooking processes the following changes accures:
30% to 50% of vitamins and minerals are destroyed;
100% of enzymes are damaged;
Overly heated fats generate numerous carcinogens;
Natural fibers break down;
*According to Encyclopedia Britannica
If you feed kibble, consider the processing involved to make it. Please add some real food to their diet each day (replace some kibble with real food).
Number of toxins can arise in dry dog food during its production, storage, and transportation.
Most of the toxins are produced by various molds that grow in the food, or in certain ingredients of the food.
Remember that kibble or even wet food manufacturers do not test their INGREDIENTS TOXICITY…That's why we face genetically modified ingredients (GMO), lead, pesticide or other nonsense.
Here is an article of Dr. Karen Becker about that Blue Buffalo kibble food consists lead!

"Exposure to lead in food builds up over time. Buildup can and has been scientifically demonstrated to lead to the development of chronic poisoning, cancer, developmental, and reproductive disorders, as well as serious injuries to the nervous system, and other organs and body systems."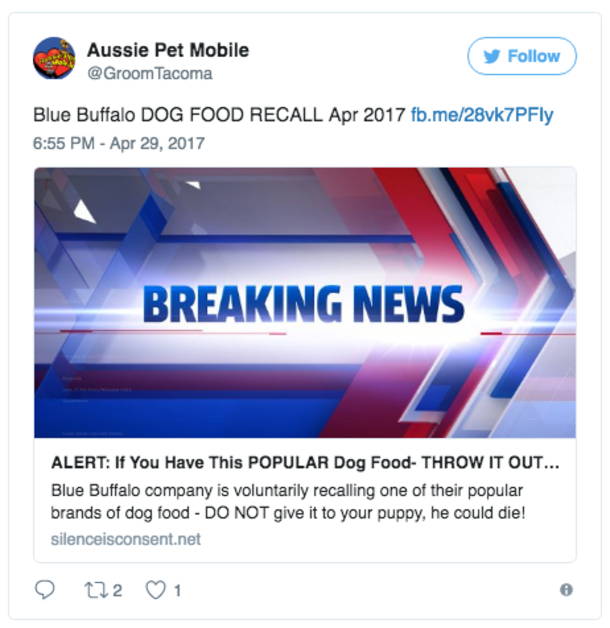 BUT EVEN AFTER ALL OF THIS INFORMATION YOU ARE NOT WILLING TO QUIT KIBBLE… THEN PLEASE PLEASE PLEASE ADD VEGETABLES AND RAW MEET in your dogs bowl.
According to study made in 2005 (conducted on dogs): dogs on a diet of dry commercial pet food fed LEAFY GREEN VEGETABLES at least three times a week were 90% less likely to develop cancer than dogs that weren't!
I hope this answer was helpful to all of you! If you want to know more about RAW Ketogenic dog diet, visit our page HERE:
With unconditional love,
Agota
Join The Tribe Of Healthy Dogs
---
Sign-up for the ROCKETO mailing list and get unlimited access to the latest news, updates and recommendations from top of the top in dog nutrition science!