We get a lot of questions about treats for dogs, including the ones that we provide.
Treats/training treats / dental sticks etc. should not be confused with the food that you 'feed' your dog.
Here are a few tips when choosing treats for your dogs:
Treats should only make a maximum of 10% of the dog's diet
Choose treats to support your dogs with their nutritional requirements, not to fulfil them. Please ensure that they are fed a balanced (ideally raw) diet with enough variety to meet their nutritional and behavioural needs. Treats/training snacks can then be used to supplement this but not to replace this.
Choose treats that are as healthy as possible for your dog, but also convenient for your needs, the right size for your dog (or breakable into the size you want).
Look at the ingredients list carefully with regard to any health issues that you might have.
Avoid snacks that are high in carbohydrates – as these can be tricky for dogs to digest.
For example, Rocketo Dental Sticks: 37% fat but 0% carbohydrates – dogs only have 1 per day, and they are low volume, and fat is much healthier than carbohydrates for dogs.
Summary of Some Rocketo Snacks Nutritional Values – Macro Nutrients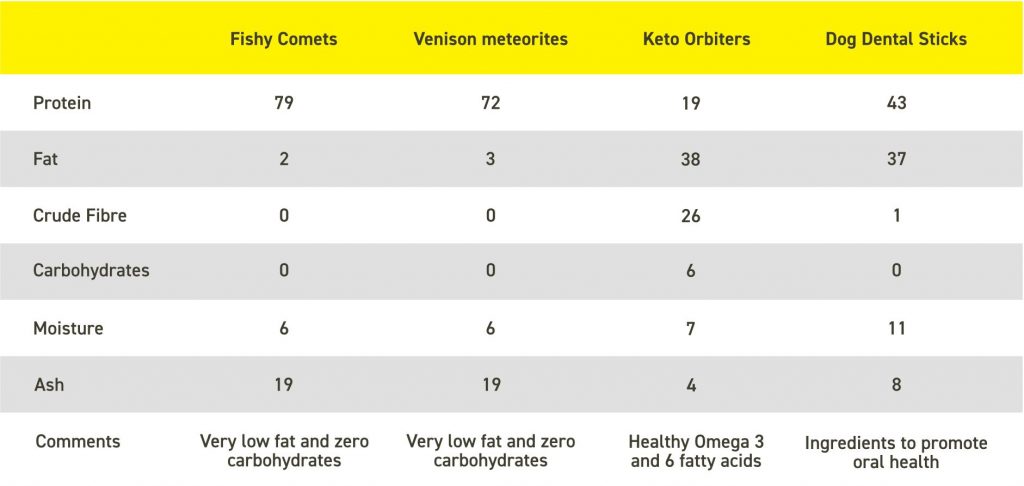 All the Rocketo Snacks / Functional treats are a healthy addition to your dog's balanced diet and are sourced from ethical, wild or organic farms.